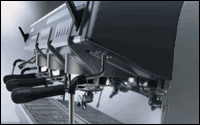 As of this morning, the official equipment sponsors of the World Barista Championship were announced. We at PT's, having been involved in this event since 2001, are proud to share the news that Nuova Simonelli's Aurelia was was chosen to be the official espresso machine through the 2011 season of this, and all SCAA USBC events. We have been big fans of the Aurelia since we brought it into our equipment line in 2006. It's a very impressive piece of equipment that has proven to pull some of the more extraordinary shots of espresso that many of us have ever seen. Below is the official press release and follow this for a video presentation of the announcement in London.
World Barista Championship selects top coffee machines for top baristas

World Barista Championship UK Ltd. has selected the Nuova Simonelli Aurelia as the official espresso machine and MAHLKÖNIG K30 (Vario and Twin) as the official espresso coffee grinder of its 2009 – 2011 competition seasons.

LONDON (August 29, 2008) – The world's top baristas will test their coffee making skills in competition using the Nuova Simonelli Aurelia espresso machine and MAHLKÖNIG K30 espresso grinders at World Barista Championship events in 2009 – 2011.

Once every 3 years, leading manufacturers of commercial coffee machines vie for the prestigious opportunity to have their equipment featured as the official tools used by national barista champions at the annual World Barista Championship. All candidates considered for equipment sponsorship must meet exacting technical standards set and tested by the WBC, but only one supplier from each category may prevail as the official sponsor.

In the most recent contest held this June in Copenhagen, national barista champions from 51 countries converged to compete for the title of world's top coffee maker in front of a live audience of several hundred spectators and thousands of online viewers.

Next year's World Barista Championship will be held April 16-19, 2009 in Atlanta, Georgia U.S.A. in conjunction with the 2009 Specialty Coffee Association of America Annual Symposium and Exposition.

About World Barista Championship UK Ltd.

World Barista Championship UK Ltd is jointly owned by the Specialty Coffee Associations of America and Europe. The first WBC competition took place in Monte Carlo in October 2000 and has since held annual competitions Miami, Oslo, Boston, Trieste, Seattle, Berne, Tokyo and Copenhagen. The organization's next event will be held in Atlanta, Georgia U.S.A., April 16-19, 2009. For more information, please visit http://www.worldbaristachampionship.com.

About Nuova Simonelli S.p.A.

Nuova Simonelli S.p.A. is an industry leader in the production of high quality commercial espresso machines and related equipment. Nuova Simonelli has been manufacturing espresso machines in Belforte del Chienti, Italy since 1936, and today has a worldwide reputation for reliability and innovation. For more information, please visit http://www.nuovasimonelli.com.

About MAHLKÖNIG GmbH & Co.KG,

The high quality of MAHLKÖNIG grinders guarantees precise and constant grinding results and long lifetimes. For more than 80 years MAHLKÖNIG has been the leading brand for high quality, professional grinders. For more information, visit http://www.mahlkoenig.de.