Our next stop on the journey through El Salvador was to one of my favorite farms, Finca Los Planes. This is an extraordinary farm that produces exceptional coffee in the Chalatenango region along the Honduras border.
We've purchased this coffee for a couple of years and hope to continue the process for many more. Sergio and Isabel took us on a walking tour to show us the improvements to the farm and additional land that is being planted with the Pacamara variety tree. This variety of tree really seems to produce the best coffee in this region. We don't have a full understanding yet as to why, but we are still learning about the coffee.

Finca Los Planes was also damaged by the winds, but not nearly to the extent of Finca La Montana. As we hiked through the farm you could see that the shade trees took the brunt of the storm and only damaged a small percentage of the coffee trees. We expect a solid crop of coffees this year and will be introducing two new coffees to you from this farm.

 

The first new coffee will be a Peaberry from Finca Los Planes. This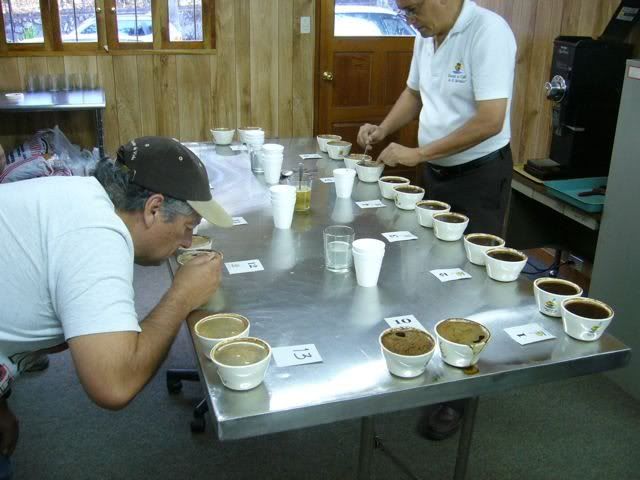 is a very small batch of coffee that will not last long. It is the first time Sergio has actually sorted out the peaberries for sale separately. I anticipate an outstanding cup from this limited supply coffee that is set to arrive in early March. The peaberry is the seed of the coffee cherry that only develops one seed. Normally a coffee cherry has two seeds inside, but when only one seed develops, it is generally smaller and rounder in size; hence, the peaberry.

The second new coffee from Finca Los Planes that we will introduce later this spring will be a Bourbon variety coffee. El Salvador is famous for this variety of tree. I've already had a chance to cup this coffee and it is outstanding. I'm confident you will love it too.

During the late 80's and early 90's most countries in Central America were replacing their Bourbon variety tree with other, higher producing, coffee trees. Back then, coffee production was about volume not quality. Yet while the other countries were increasing their coffee production, El Salvador was fighting a bloody Civil War. The coffee trees were not the major concern during that time period for Salvadorians. As the war ended and the country was being rebuilt, the coffee industry was evolving into what we now know to be the Specialty Coffee Industry. In this industry, quality matters more than volume. So in an ironic twist of fate, El Salvador was left with an industry that was ripe for production from high quality producing Bourbon variety trees. With a lower producing tree like a Bourbon, quality is the key element in the cost. The coffee will cost slightly more when it arrives, but the flavor will tell you why!
Our good friends Sergio and Isabel made us feel very welcome and treated us like family. They have a wonderful farm and we have developed a strong bond with them and their community over the last couple of  years. I believe we might even sponsor a "football" team in the local community in the near future.
Jeff Taylor, Co-Founder
Coffee Buyer, PTs Coffee Roasting Co.