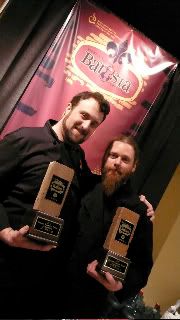 PT's take 2 of top 3 at the Specialty Coffee Association of America's 2009 Midwest Regional Barista Competition. On February 1st, 2009 Chris Weber took 3rd place and Robin Seitz took home the gold. The competition took place January 30th- February 1st at the Soulard Preservation Hall in St. Louis, MO. 
 Robin Seitz is our general manager of retail and has been with PT's for about 6 years. Robin has been competing for the last three years and this is the second time that he has been given the title Midwest Regional Barista Champion (the first being in 2007). Last year he still managed to make the top 3 (3rd place overall) with some very solid technical skills gained through both working in his cafe, as well as hours of training with his team mates and coach Holly Bastin. Having recently returned from a trip to El Salvador, Robin was ripe with excitement and enthusiasm to put forth his very best. We are all very proud of him and his regional victory. 
Chris Weber is our assistant roaster at our roasting facility in Topeka, KS. He has been with PT's for about
2 years but has been a barista for the last five. His most recent position lent to him a wealth of knowledge based on roast profiles, bean sizes and so on. One of his earlier accomplishments was to place 2nd at the 2005 Millrock Latte Art Competition held in Chicago. Originally from Illinois, when Chris found out that he was to move to Topeka, his boss at the time contacted us and said that a great barista was moving to our area and we should snag him up if we can. We are so glad that we did! All of us at PT's are extremely proud of Chris, not only making the finals on his first year, but for bringing home the third place trophy. 
Both Seitz and Weber used PT's La Bella Vita Espresso through out their performances. The both spent hours over the last 3 months training both with each other, as well as with coach Holly Bastin. She has been the team coach for the last 4 years. As of February 1, 2009 her resume includes 3 regional winners, 14 regional finalists (including winners), and two runner up finishes at the SCAA's United States Barista Championship. 
For more information about training, please visit this site.